Why get teeth straightened?
There's no denying that straight teeth look stunning. A beautiful smile can boost your confidence to smile and enhance your relationship with others.
Just as patients from Marylebone, Mayfair, Fitzrovia and throughout London are spending time looking after their hair and skin, now too are more people wanting to make their teeth look attractive. Straight teeth not only look good, but it benefits your oral health too as they become easier to keep clean.
Teeth straightening is no longer just for children. At Rod McNeil and Associates, we have treated thousands of patients for adult teeth straightening and it remains a popular cosmetic dental treatment.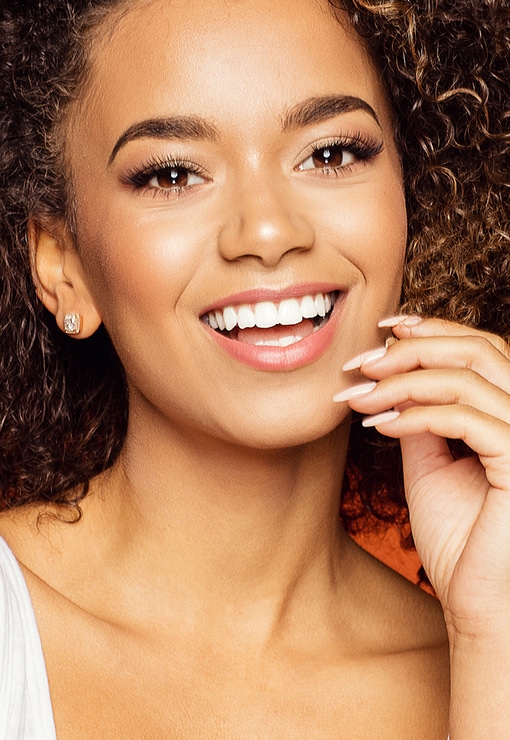 What are the options for teeth straightening in Harley Street?
At Rod McNeil and Associates in Harley Street, London, we offer several ways to straighten teeth.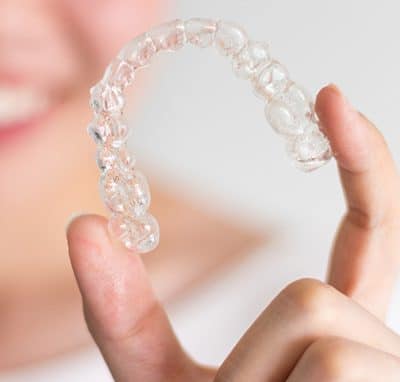 Invisalign braces are a series of clear, removable aligners made from thin, flexible plastic which sit over the top of your teeth. The transparent material ensures that these braces are practically invisible and are proving an extremely popular way to straighten teeth with patients from Marylebone, Fitzrovia, Mayfair and throughout London.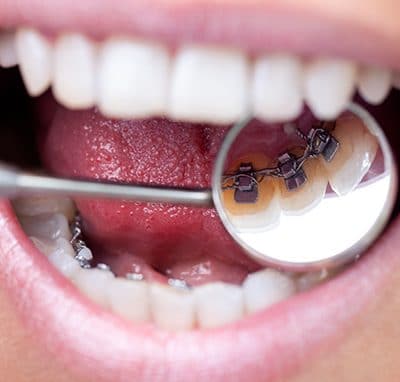 Lingual braces or hidden braces are a form of fixed braces which are cemented on to the back of your teeth for the duration of your treatment. Lingual braces have the benefit of straightening teeth precisely whilst being extremely discreet.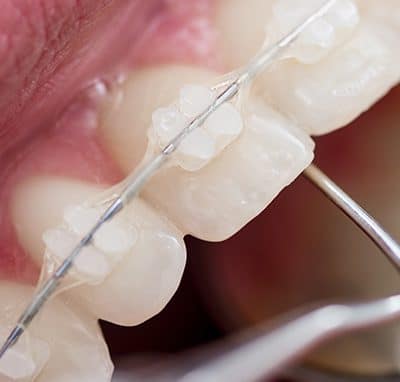 Fixed braces are the traditional way of straightening teeth which use brackets and wires fixed to the teeth for accurate teeth straightening treatment. Updates in technology mean that treatment tends to be faster than it was years ago. The option for ceramic brackets now means that this form of teeth straightening is also far more discreet than it used to be.
Options to straighten teeth have radically changed in the last decade. Teeth straightening is now:
• Discreet. Many options to straighten teeth are now so discreet that you can barely see the dental braces at all.
• Comfortable. Recent advances in dental technology mean that teeth straightening is comfortable and painless.
• Fast. Most teeth straightening options have reduced their treatment times and some cosmetic options take just a few months to straighten teeth.
Why choose Rod McNeil & Associates for Teeth Straightening?
There are many reasons why patients throughout Marylebone, Fitzrovia, Mayfair and throughout London choose Rod McNeil and Associates in Harley Street for Teeth Straightening:
Our team of dental specialists are highly qualified and have a wealth of experience. Principal Dentist Dr Rod McNeil & Associates and has treated thousands of patients for Teeth Straightening.
We believe in using the most modern technologies and up to date techniques which ensure you receive a premium service.
We offer different specialist areas of dentistry within one practice so that we can offer a comprehensive service to you.
Thousands of patients including top celebrities are thrilled with the results of their treatments at Rod McNeil and Associates.
★★★★★
I HAVE RECOMMENDED 31 HARLEY STREET TO ALL MY FRIENDS AND CLIENTS
Rod McNeil and his team truly offer the best dental care in London. I tried several other practices previously with mixed results. When you try this team however, I defy you to ever think about going elsewhere. Their hygienists are sensational (care, accuracy, equipment, expertise). All of this on the Harley Street, at very reasonable rates. Great personalities also. Keep up the Sterling work!
★★★★★
ROD IS QUITE CONCEIVABLY THE BEST DENTIST IN LONDON.
I have been under his care for some 20 years now and it would be difficult to imagine how I could have been being looked after better. He is the embodiment of professionalism and I would recommend him to anyone without a moment's hesitation.
★★★★★
I COULDN'T RECOMMEND THIS PRACTICE AND THEIR STAFF HIGHLY ENOUGH!
I've been to this practice twice for hygiene appointments with Kelsey, she was great and did a thorough job. I was nervous in the chair but she did amazing to keep me calm and made sure I was comfortable. The practice's Covid procedures also made me feel very safe.
Book your consultation for Teeth Straightening
What are the benefits of Teeth Straightening in Harley Street?
There are many reasons why patients from Fitzrovia, Marylebone, Mayfair and throughout London are choosing to straighten teeth:
Straight teeth will give you a beautiful smile that will boost your confidence.
Your oral health will benefit as straight teeth are easier to keep clean and free of plaque. With straight teeth you are more likely to avoid periodontal problems such as tooth decay and gum disease.
Your oral health is closely linked to your general health and so by improving your oral health through teeth straightening, you are reducing your chances of developing other general health issues such as a stroke, diabetes and heart disease.
Teeth straightening will improve your bite, and this will correct your teeth's function and ability to eat and chew properly.
Frequently asked questions about Teeth Straightening
What is the best way to straighten my teeth?
This will depend upon many factors. It will depend upon the severity of your orthodontic case and whether you need to have all your teeth straightened or just a few. You will need to weigh up other things like how long you are prepared to wear braces. We will ask you questions about your lifestyle and for example whether you play certain sports or play a musical instrument. At our initial consultation, we can discuss the different methods of teeth straightening and help find the best option for you.
I'm in my forties. Is it too late to have my teeth straightened?
It is never too late to have your teeth straightened and experience the benefits of having lovely straight teeth. At Rod McNeil and Associates in Harley Street, we believe age is not a factor for having your teeth straightened. We have treated patients of all ages including patients in their forties, fifties, sixties and seventies for teeth straightening.
Which teeth straightening option is the most discreet?
All options for teeth straightening are discreet, but Invisalign which blend in with your teeth and lingual braces which are hidden behind your teeth are perhaps the most inconspicuous as they are the hardest to spot.